Biography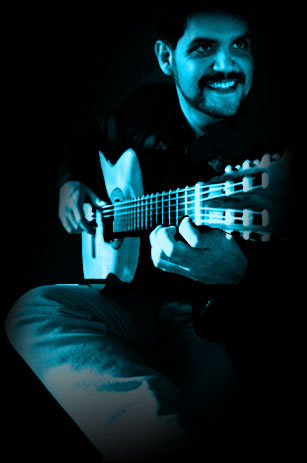 Widely regarded as one of the leading virtuosos of the new Classic Guitar generation, Ricardo Cobo gave his professional debut with the Orquesta Filarmónica de Bogotá at age seventeen on a nationwide telecast for an audience of over nine million people. Celebrated for his passionate and mesmerizing performances worldwide, he is in high demand as soloist, chamber musician, lecturer and recording artist. Born in the City of Cali, Colombia, Ricardo Cobo is the son of Lebanese immigrants who came to the Americas looking for a new life during the first half of the 20th century. His mother, a classical pianist and avid visual artist, taught him to play and read music as a child. His father, a brilliant surgeon who founded the first university school of medicine in Colombia, was a devoted concertgoer and lover of classical music. He instilled a fascination for guitar music in his young son while studying for his surgeries, which he prepared while listening to long hours of Flamenco and classical recordings.
The young Cobo began guitar lessons at the age of 8, playing on a twenty-dollar souvenir guitar his uncle brought back as a gift from Brazil. Both parents were taken by surprise when the young guitarist quickly outpaced his lessons and was admitted to the Antonio María Valencia Conservatory just shy of his 13th birthday. He graduated on scholarship and was immediately accepted to the Peabody Conservatory in Baltimore (USA), where he began to work with renown pedagogue, Aaron Shearer. He graduated from the North Carolina School of the Arts in Winston-Salem and later pursued postgraduate studies with Bruce Holzman at Florida State University where he was a three-time Doctoral Fellow. While completing his studies in the United States, Mr. Cobo earned consecutive prizes in a string of international competitions as well as a host of academic excellence awards and numerous scholarships. Among them, Gold Medals at the Sixth Guitar Foundation of America International Competition in AZ, the Ninth Alirio Díaz International Competition in Caracas (with Leo Brouwer and Alirio Díaz as head jurors), and the Ninth Casa de España Competition in San Juan. As the first and only Hispanic ever to win the GFA prize, Mr. Cobo embarked on a highly auspicious tour of over seventy American cities followed by debut appearances as soloist and recitalist through Europe, Ukraine and Asia.Equally in demand as chamber musician and soloist with orchestras, Cobo's busy touring schedule has taken him from New York's Carnegie Hall and Alice Tully Hall to Korea's Ho Ham Hall, Los Angeles' Ambassador Auditorium, San Francisco's OMNI Foundation, Atlanta at Spivey Hall, Washington DC's Phillips Gallery, Madrid's Teatro Real, and Zaragoza's Palacio Real, to Venezuela's Teresa Carreño, and his native Colombia's National Library and Teatro Leon de Greiff, among hundreds of others.
Mr. Cobo's versatility can be heard in his award-winning solo recordings of classical and children's music – Tales for Guitar -ESSAY, Brouwer Solo Works-NAXOS and Guitar Lullaby- Ellipsis Arts, as well as his orchestral and crossover recordings in collaborations with jazz and classical musicians- Café 1930 with Marc Gould-Angel/EMI and Walking on the Water -ESSAY/Allegro. His Guitar Lullaby CD, currently on its third printing, was awarded the American Library Association's highest recognition for children's music as well as a Parent's Choice Award and is widely regarded as one of the finest classical guitar audio experiences on CD. The enormous success of the Lullaby series also showcases Cobo on Papa's Lullaby, Mediterranean Lullaby and Latin Lullaby. His world premiere recording of Leo Brouwer's Guitar Concertos 3 & 4 (ESSAY CD 1040) has been called "compelling- a recording that cannot be too highly recommended and will not be bettered for some time to come." -Fanfare. His most recent recording, Guitar Music From Latin America, is available on NAXOS (8.557 329) and includes Cobo's remarkable arrangements of Latin American standards. This year's releases include Festival Latino with flutist Alex Hawley on the Cambria label and Acrílicos , a collection of new music from living Cuban authors.
His diverse and innovative programming ranges from solo concerti with orchestra to historical chamber settings as well as Tango and Flamenco dance ensembles to Latin and world music concerts. He has performed with the Orchestra Of St. Luke's at Carnegie Hall, The Dallas Symphony Orchestra at Meyerson Symphony Hall and the Philharmonia Virtuosi of New York with Richard Kapp on tour in Southern Europe and at the Metropolitan Museum of Art; as part of the Tango Consort with Tango couples Sandor & Parissa, Armando & Daniella, and Francisco & Carolina; the Ballet Jazz of Montreal, U. of Hawaii's Guitar Summit with the Flying Pisanos and "Masters of the Acoustic Guitar" at Alice Tully Hall, to name a few.
Cobo's affinity and deep connection with Leo Brouwer's music is apparent in both his recordings and live performances under the composer's own baton. Cobo played the historic American Premiere of his Concerto de Toronto during the closing program at the Guitar Foundation of America's International Festival 2000 with the San Antonio Symphony to critical acclaim: "Cobo's performance, was characterized by generosity of spirit, to say nothing of knockout virtuosity. His playing was extrovert, lyrical, and rhythmically alive," said the San Antonio Express-News. Cobo and Brouwer previously appeared as special guests with Les Violons du Roy performing his 3rd. Concerto at the Domaine Forget in Quebec as part of an all-Brouwer festival. Equally in demand during the summer season, Mr. Cobo has performed in Germany's International Guitarrefestpiele in Nurtingen, Duquesne University's International Guitar Week in Pittsburgh, the National Guitar Workshop in CT, the Alirio Díaz (1990, Gold Medal Winner) and Rodrigo Riera International Festivals in Venezuela, the International Festivals of Morelia, Tijuana, Culiacán, Saltillo, and Festival Paracho in Mexico, the Caramoor Festival in New York, Le Domaine Forget in Canada and most recently at Colorado's Strings in the Mountains. He has been guest Artist-in-residence at many universities including Temple University in Philadelphia, Stetson University in Florida, Duquesne University in Pittsburgh, North Carolina School of the Arts and currently at the University of Nevada in Las Vegas.
Decorated on numerous occasions by his country, Mr. Cobo was the first musician ever to be awarded the "Executive of the Year Award" by the Cámara Junior de Colombia, one the country's oldest and most prestigious professional organizations. He was decorated by his country with the "Order of Cañasgordas" and personally by the Mayor of Cali, with the "Order of Belalcazar" for outstanding Merit in cultural affairs. Locally, Mr. Cobo chairs the classical guitar department at UNLV and is founder and artistic director of the Guitar Las Vegas/Allegro Guitar Series hosted at UNLV's Doc Rando Concert Hall.
In addition, he teaches classical guitar lessons in a thriving private studio. In his spare time he rides his mountain bike at dazzling speeds and frequently undertakes night hikes through the moonlit canyons of Zion.