Category > Uncategorized
Wednesday, April 23, 2008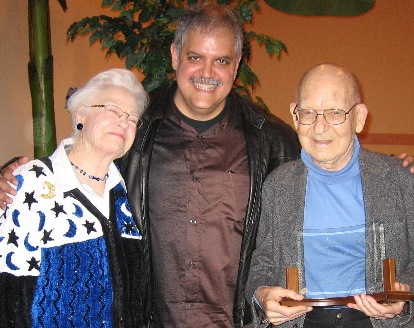 Aaron Shearer is the Father of American Classic Guitar. For those of us who studied with him, 'Mr. Shearer' revealed a powerful and comprehensive method that transformed our lives. As a teacher he was uncompromising with his musical and artistic integrity and awe-inspiring in his precision and clarity. As a person he was profoundly generous and deeply concerned about each and every one of us. He would take a handful of students for summer sessions to Lewiston, ID, where he grew up. Throughout the hot, dry summer he would regularly ride his bike, to teach daily lessons and performance development classes. Summers in Lewiston were a kind of "special ops" guitar study- we were immersed in playing, visualizing, and performing all day. It was Mr. Shearer's favorite time of year. For us, it was magic.
The six years I studied with Aaron will remain the most significant and defining period of my life both as a student and professional. He was like a father to me and remained a dear and caring friend throughout my career. Aaron's passing represents a monumental loss for the guitar and music world. 
Aaron codified a revolutionary pedagogical method that redefined the Art of the Guitar and gave birth to an entire generation of players and teachers. Aaron didn't just write about the guitar, he made it a formal discipline backed by a lifetime of extensive research and developed the Gold standard by which players are judged today.
– Ricardo Cobo, Las Vegas, NV
"Ricardo is probably the finest student I've produced in seventy years of teaching. He represents the fruits of my labor. As a player, no one can touch him."
-Aaron Shearer November 15, 2007. Dana Auditorium, Guilford College, Greensboro.